Washington Kurdish Institute 
January 21, 2018
After weeks of threats and intermittent shelling, the military of NATO member Turkey has launched a military operation using its air force and ground forces against Afrin, a Kurdish majority area in northwest Syria. Here is some important information on this military operation.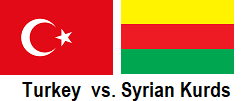 Aggression vs. Defense
Prior to this military operation, Turkey has attacked Afrin hundreds of times.

No force based on Afrin has ever committed an act of aggression against Turkey (despite constant Turkish threats).
Invasion vs. Trying to Live in Peace
Turkey has chosen to launch a military offensive on Afrin, a part of a foreign country over which Turkey has no legal right, targeting a region that has never acted in an aggressive manner against Turkey.

Despite Syria's ongoing civil war, the people of Afrin are trying to build a new society based on direct democracy and equal rights for all citizens. Until present, Afrin has been relatively stable, and has hosted hundreds of thousands of internally displaced Syrians of various ethnicities and religions from other parts of Syria who were compelled to flee due to violence.
Authoritarianism vs. Democracy
Under the leadership of Recep Tayyip Erdogan, Turkey's current president and former prime minister, the country has become increasingly authoritarian – tens of thousands of his alleged opponents have been arrested, freedom of expression has been stifled, and Turkey has imprisoned more journalists than any other country in the world.

The people of Afrin, along with others in northern Syria, have instituted a revolutionary system in which all citizens, regardless of gender, ethnicity or religion, are given a voice.
Role in Syria
For years, Turkey has supported radical Islamic jihadist groups in Syria who violently persecute all who disagree with them.

The people of Afrin are Syrians and want to live in their homes in peace.
Treatment of women
Women's rights have suffered significantly under Erdogan's leadership, a man who has said that "women are not equal to men" and has referred to women who "refuse maternity" as "half persons" who are "deficient".

The people of Afrin have made great strides towards achieving gender equality over the last few years, and this principle is enshrined in local law and unambiguously promoted in practice. In Afrin (along with other parts of northern Syria), a co-chair system has been implemented in which all leadership positions are shared by two citizens, one male and one female.
Treatment of other ethnic and religious groups
Turkey, since its foundation, has restricted the use of the Kurdish language and, under Erdogan's leadership, has become increasingly hostile toward all who are not Sunni Muslims, including the country's sizable Alevi minority.

The people of Afrin and their revolutionary system promotes pluralism – it does not enforce any sort of state religion, and celebrates and encourages communities' use of their mother languages.
Role in fighting ISIS
Since the emergence of ISIS in Syria, Turkey has been the major point of transit for foreigners seeking to join the group. Turkey has been widely accused of aiding ISIS and interviews with captured ISIS fighters confirm Turkey's assistance to and tolerance of the terrorist group.

In March 2015, the Kurds of Syria inflicted the first major defeat on ISIS, repelling an ISIS offensive on the city and region of Kobanê in northeast Syria following a 6-month siege. In October 2017, the Kurds and their allies liberated Raqqa, formerly the de facto capital and planning center for ISIS. They have proven to be the most effective force in the battle against ISIS, a vital ally for the US-led coalition in the battle against ISIS.
The people of Afrin are now being targeted with Turkish fighter jets and shelling. Civilians are dying. A peaceful corner of war-ravaged Syria has been set ablaze by Turkish aggression. The world should not remain silent. Now is the time to speak up for peace and justice – for life and humanity!