Zamawang was born and raised in Sulaimanyiah, Iraqi Kurdistan, from where she fled the atrocities of the Iraqi regime, seeking asylum in the USA in 1997. Since then, she has received two Bachelors degrees in Chemistry and Biology, and two Masters Degrees in Chemistry and Mechanical Engineering, from the University of Colorado at Colorado Springs (UCCS).
While at UCCS, she taught graduate courses in Biology and Mechanical Engineering, and was a PhD Graduate Fellow in Mechanical Engineering conducting research in nanobiotechnology.
She has numerous publications that focus on Kurdish-related issues and advocate for political rights in Kurdistan. She is currently studying Biodefense at George Mason University (GMU) with emphasis on Terrorism and the use of Chemical, Biological, Radiological, Nuclear, and explosives (CBRNe), and is working for the Department of Defense at the Pentagon.
Follow Zamawang: @ZamawangAlmemar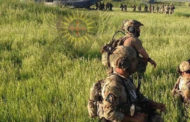 Zamawang Almemar May 27, 2017 Coming back from a trip to the conflict zone in Iraq, the voices of the soldiers who I have met remained ringing in my h... Read more